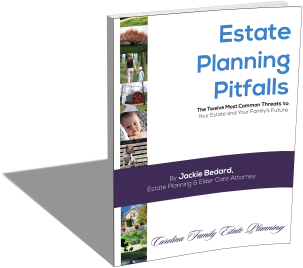 Discover the Steps You Need to Take to Have the Peace of Mind that Your Family and Your Assets Are Fully Protected.
Don't hire an estate planning attorney until you read this report and learn why most "traditional" estate plans fail to adequately protect against these major (and common) risks.
Reading this guide may save your family years of unnecessary pain, thousands of dollars, and countless headaches. With this guide, you will learn why taking care of these matters is so important (and how easy it is to do it properly).
Estate planning and asset protection planning is about protecting you, your family, and your assets in the event of your death or incapacity. Estate planning is really about taking care of the people you love, even after you are no longer here. This means knowing your family and your assets would be taken care of exactly as you want them to be if anything happens to you.
In this guide, you'll learn:
Why your children may be at risk of being accidentally disinherited;
How to protect your spouse and children from lawsuits, creditors, divorce, remarriage, and similar concerns;
Strategies to have the advantage in tax and probate issues;
The importance of addressing your future health care needs so that your spouse or children are not left financially ruined;
How to avoid probate or unnecessary taxes; and
How failing to properly plan could cost your family hundreds of thousands of dollars unnecessarily.
To download your FREE copy of this report, simply enter your name and email address.