Estate Planning and Elder Law Attorney Raleigh, NC
Estate Planning
Asset Protection
Wills & Trusts
We Help People Live Better Lives By Planning Secure Futures
As some who is juggling a career, family responsibilities, and life, you likely have a lot going on, and estate planning may not be at the top of your list. That's why at Carolina Family Estate Planning, we've built our estate planning and asset protection practice on providing efficient and effective solutions that take the worry, confusion, and frustration out of complex issues.
We've seen far too often people dealing with the disaster of a failed estate —whether due to lack of planning or disorganization, family discord, the never-ending probate process (and the bills to go with it), or other unintended consequences. Our goal is to help YOU make the best possible decisions for you and your family's long-term wellness and financial security and leave a LOVING LEGACY of protection after you are gone.
Serving Clients in Raleigh, Cary, and the Triangle Area
Get Help Now
Fill out the form to get help with your estate planning needs.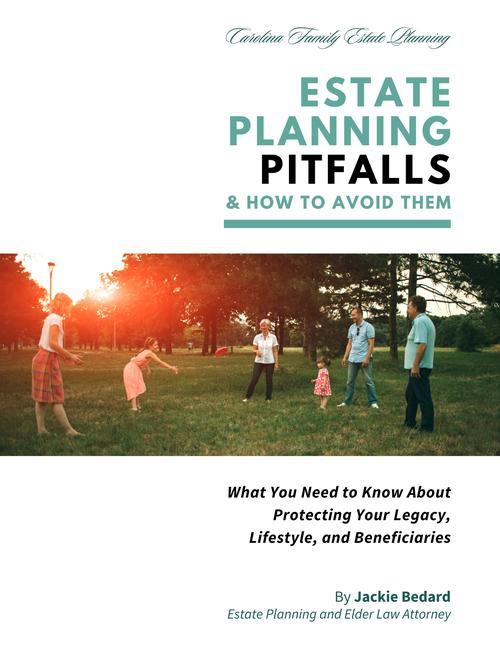 Estate Planning Pitfalls & How to Avoid Them: Protecting Your Legacy, Lifestyle, and Beneficiaries
Need to set up an estate plan but not sure how? Order our book, Estate Planning Pitfalls - Twelve Most Common Threats to Your Estate and Your Family's Future.
More Info
No matter what stage of the estate planning process you are in, Carolina Family Estate Planning will guide you through each step. Our estate planning attorneys in Raleigh want to be your trusted advisor in securing your family's future.
Protect Your Legacy
Call us at 919-443-3035 to get started.
Common Planning Tools and Strategies We Use
Revocable Living Trust

Children's Safeguard Plan

Financial Durable Power of Attorney

Health Care Power of Attorney and Living Will

Asset Protection Planning

Long-Term Care Planning



Benefits of Working With a Raleigh Attorney
We're not a one-stop shop that you never hear from again after you've signed your paperwork. We stay in contact and work with you through all of life's evolutions and make sure you've made the best decision for your family and loved ones. Whether you just moved to the area or are a lifetime Raleigh resident, every one of our clients is unique and has personal goals and objectives. Our focus is entirely on learning about you, your family, your goals, concerns, and fears, making this process as painless and stress-free as possible.
We Serve All Areas In And Around Wake County And The Surrounding Counties Including:
Cary
Raleigh
Apex
Holly Springs
Fuquay-Varina
Durham County
Johnston County
Chatham County
Get Started Today
Who We Help
High Net Worth Individuals: Young, established, and blended families, or child-free couples with an estimated estate of $1M or more (don't forget to count life insurance) that want to leave a loving legacy to their family and loved ones.
Business Owners: Our integrated personal and business planning services are highly effective for successful businesses making more than $250,000 per year.
Medical Practices & Professionals: We help doctors, dentists, and accomplished medical professionals develop comprehensive legal, financial, and tax strategies to build and protect wealth.
Rental or Vacation Property Owners: We help rental and vacation property owners design asset protection plans to minimize liability risk and protect their wealth and legacy.
Families with a Loved One with Special Needs: We develop plans to protect the future wellness and financial security of a loved one with a disability.
Hear What Clients Say
Carolina Family Estate Planning has been helping families and businesses in the city of Raleigh for over 13 years. Together we've created plans that best fulfill our clients' dreams and goals, and meet their unique objectives—all while accomplishing substantial savings for their families over the long run. Visit our testimonials to hear about the experiences of our past clients in Raleigh and the surrounding areas we have been able to help.
Trying To Plan Your North Carolina Estate?
Here's What You Need To Know