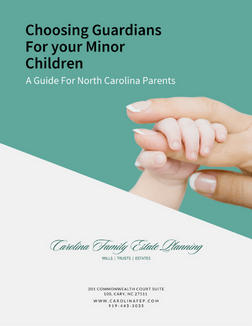 Are you a parent of minor children who is struggling with selecting potential guardians to take care of your children if something happens to you?
Download Carolina Family Estate Planning's free Guide to Choosing Guardians for Minor Children. Inside you'll find:
Advice to help you get started brainstorming potential guardians
Our child-raising priorities checklist, to help you rank what's important to you
Tips and answers to frequently asked questions about choosing guardians for minor children

Simply enter your name and email in the boxes in the form to the right for instant access to this free guide.
Choosing Guardians
Request your copy of

Choosing Guardians for Your Minor Children