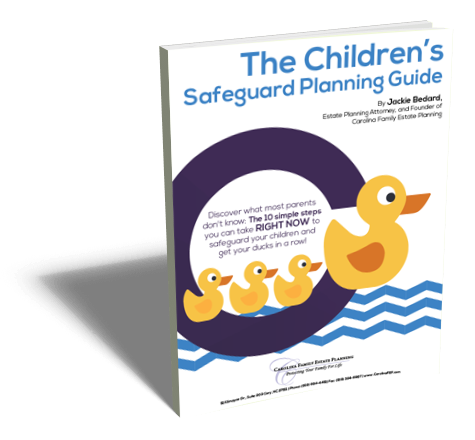 Most parents need to know, if the unthinkable were to happen to them, that their children would be loved and cared for and have a secure financial future.
Let's face it. No one wants to think about the scary what-ifs... But what if you knew that planning ahead could save your loved ones months of stress and delays and thousands in court costs, and that you could ensure your children would be cared for by people you knew would love them like their own?
Inside The Children's Safeguard Planning Guide You Will Learn:
The 10 simple steps we advise parents to take to safeguard their children…

and how your children could be placed in the care of social services or someone else you would never have chosen if you don't plan ahead.
A process for helping you select the "right" guardians for your children…and how to avoid making common mistakes parents make when selecting guardians.
How to protect those you love from "wealth wasting" due to divorce, lawsuits, or financial irresponsibility

.


Why a poorly designed estate plan might cost your family thousands of dollars in unnecessary expenses, make your finances public, and cause your loved ones to be hauled through the courts for months on end..

.
Get your free copy of The Children's Safeguard Planning Guidebook, by submitting the form on this page.