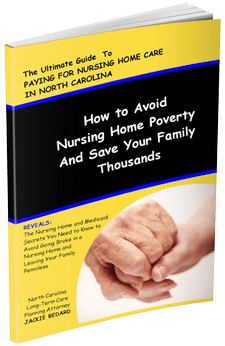 FREE Report — What You Don't Know About Paying for Nursing Home Care Could Cost You Everything!
Discover the steps you should be taking right now to get quality long-term care...without going broke, losing your home, or leaving your family without a dime! Plus, learn the little-known secrets for surviving or reducing the dreaded nursing home spend-down.
Are nursing home expenses causing an undue strain on your family or a loved one? Or do you worry that they might in the future?
Did you know that if you are single, widowed or divorced, the State will not help pay for long term care until you are broke? Or, if you are married, the State will require you to spend half of your assets or more before they will provide financial assistance? And if you do nothing, you or your family may ultimately have to sell your home to pay the nursing home bills that keep coming month and month out?
Regularly, we see examples of families spending their savings, selling off their home or other assets, and then, when the money has finally run out, they apply for Medicaid to provide financial assistance in paying the nursing home bills.
What You Don't Know CAN Hurt You… And Your Assets!
The good news? This is totally avoidable if you have the right information! By arming yourself with sound information and the right strategies it is possible to qualify for financial assistance for quality long-term care without having to sell your home or give up all of your hard-earned savings.
Medicaid finances at least a portion of as many as two-thirds of the nation's nursing home residents. With proper planning and the right strategies, you could be eligible for nursing home financial assistance from Medicaid too!
In collaboration with my team, I have developed an essential free report explaining-in plain, easy-to-understand language—the rules, strategies and pitfalls of Medicaid qualification.
There is Hope. And Help. Find Out More With This FREE book!
Carolina Family Estate Planning, is dedicated to helping families who are overwhelmed or confused by all the decisions they have to make when they are — or care for a loved one who is — facing long-term care expenses.
If your situation is similar, or if you know of someone whose situation is, then order this FREE book that reveals the little-known strategies that can protect you and your family with practical steps you can take immediately. Here are just a few of the secrets you'll discover inside…
The little mistake that could leave you ineligible for months—or even years.
What you can do to save money—EVEN IF your loved one is already in a nursing home!
Discover the hidden benefit for veterans and their spouses that could help to cover the high cost of home health care or assisted living
Learn how gifting money to your children can disqualify you from Medicaid—unless it's done just right
Discover the biggest mistakes most people make when a loved one enters a nursing home—and how you can avoid them!
Find out how you may be able to protect your home from an estate recovery claim by the state
Learn how to find the right nursing home and how to get quality care there
And much more…!
Anxious to get started?
Enter your name and contact information in the form at the right of this page and you'll receive this FREE book,
The Ultimate Guide To Paying For Nursing Home Care in North Carolina
.
This book is an invaluable resource with plain-English tips and techniques to help you make sense of the some of the public benefits available offsetting the skyrocketing costs of long-term care and will help you determine if planning is right for you.
Don't delay….order your FREE book today!
This book normally
sells on Amazon
for $19.95 plus postage, but as a service to the public, Carolina Family Estate Planning will email you a digital copy at no cost or obligation. We don't share your contact information or email with anyone. Simply enter your contact information in the form in the right column of this page.
Request Your Free Copy Here