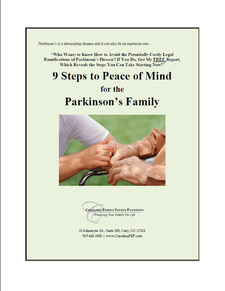 Parkinson's is a devastating disease and it can also be an expensive one…
"Who Wants to Know How to Avoid the Potentially Costly Legal Ramifications of Parkinson's Disease? If You Do, Get My FREE Report, Which Reveals the Steps You Can Take Starting Now!"
Dear friend,
Do you have a loved one (or know of anyone) who suffers from Parkinson's Disease or other Neurological Disorders? If you are concerned about what steps to take to protect yourself, don't do anything until you read our provocative FREE Special Report entitled "9 Steps to Peace of Mind for the Parkinson's Family." It may be the most significant information of your life, or the life of a loved one or friend!
In this "must-read" special report, you'll learn what steps to take immediately — and what you must avoid as well. I urge to order your FREE Special Report today without cost or obligation — for it may save you an enormous amount of time and from potential losses, such as the loss of any hard-earned assets. Simply fill out the form, below.
What You Don't Know CAN Hurt You… And Your Assets!
The decision to care for a family member or loved one stricken with such a debilitating disease is one of the toughest and most difficult decisions you can ever make. Over time, caring for a disabled loved one can seriously deplete your energy, your time and, of course, your bank account. (I see it all too often in my elder law practice!)
But that's not all. If you don't know your rights and the different steps you can take right now, that difficulty can expand drastically. For example…
• Your medication and home care costs can snowball out of control;
• Your entire lifesavings can be sucked dry if left unprotected;
• Your income and standard of living can be seriously threatened;
• And your family home or any important hard-earned assets can be lost.
There is Hope. And Help. Find Out More With My FREE Report!
Carolina Family Estate Planning is dedicated to helping families who are overwhelmed or confused by all the decisions they have to make when they are — or care for a loved one who is — stricken with Parkinson's. If your situation is similar, or if you know of someone whose situation is, then order my FREE report in which I reveal little-known strategies that can protect you and your family with practical steps you can take immediately. You may be able to…
• Reduce or even eliminate your medical bills;
• Protect your lifesavings and financial security;
• Increase the amount of income you get to keep;
• And safely pass on an inheritance to your children.
Act now before it's too late! If you want to put an end to the mind-numbing guesswork and grunt work that's usually involved when dealing with this dreadful disease, this report will certainly guide you. I invite you to learn more. Get your hands on this FREE Special Report as soon as possible.
Order Your Copy Now! Simply Fill Out The Form Below.
Most sincerely,
Jackie Bedard, J.D.
Carolina Family Estate Planning
P.S. Making informed decisions may become more difficult or even impossible over time. The longer you wait, the greater the risk becomes. The time to act is now! With proper planning, you will ensure that you've taken the best steps possible to protect your loved ones and your family's financial security. Do it now before it's too late!
Fill Out the Form To Get Your Free PDF