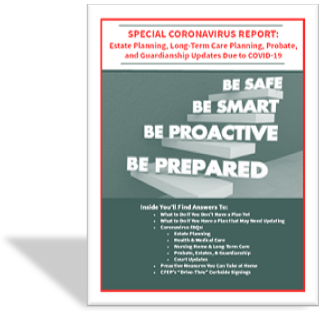 Amid the current coronavirus pandemic, our office has been fielding a lot of questions, so threw together this guide to help. In fact, we've rushed to print so quickly that there's a high likelihood that you'll find a few typos. But we believe in the importance of this information and wanted to get it out as quickly as possible.
We put this guide together to help people under proactive measures that they can take to protect themselves and their loved ones—even if you already have a plan or if you're quarantined.
Inside you'll find answers to:
What to Do if You Don't Have a Plan Yet
What to Do if You Have a Plan that May Need Updating
Coronavirus FAQs:

Estate Planning
Health & Medical Care
Nursing Home & Long-Term Care
Probate, Estates, & Guardianship
Court Updates

Proactive Measures You Can Take at Home
CFEP's "Drive-Thru" Curbside Signings
In all sincerity--we're here to help. We're trying to do our part to help residents of our local community. Lawyers are problem-solvers by training. If you need help, even if it's not specific to our practice-area, please give us a call or reach out [email protected]. We'll do what we can to help get you pointed in the right direction.
Wishing you and your family health and wellness,
Jackie Bedard
Estate Planning & Elder Care Attorney
Founder of Carolina Family Estate Planning
Accredited Attorney with the Dept. of Veterans Affairs